Page 5 - FCW, July 15, 2016
P. 5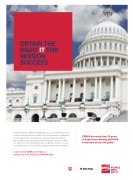 As a Department of Defense (DoD) agency, your IT department has to do more with less. Because of this, it's crucial to utilize cost-effective technology solutions that help your agency complete its mission.
We can help you plan, design and implement tailored solutions with the expertise of our team dedicated to our DoD customers — so you can make the most of your technology purchasing and procurement.
Learn more at CDWG.com/fedgov or
call your account manager at 800.808.4239
CDW•G has more than 20 years of experience working with DoD customers across the globe.