Page 21 - FCW, July 15, 2016
P. 21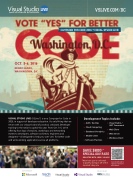 VSLIVE.COM/DC CAMPAIGN FOR CODE 2016    VISUAL STUDIO LIVE!
VISUAL STUDIO LIVE!
OCT. 3-6, 2016
RENAISSANCE, WASHINGTON, D.C.
VISUAL STUDIO LIVE! (VSLive!TM) is on a Campaign for Code in 2016, in support of developer education. It's only fitting that we return with our unique brand of practical, unbiased, Developer training to the nation's capital this year. From Oct. 3-6, we're offering four days of sessions, workshops and networking events to developers, software architects, engineers and designers—all designed to help you vote "yes" for better code and write winning applications across all platforms.
Development Topics Include:
➤ ALM / DevOps
➤ Cloud Computing
➤ Database & Analytics ➤ Mobile Client
➤ Software Practices
➤ Visual Studio / .NET Framework
➤ Web Client
➤ Web Server
➤ Windows Client
SUPPORTED BY
PRODUCED BY
magazine
SAVE $800!* SPECIAL GOV RATE
REGISTER WITH CODE: VSLGOV
*Must have .gov or .mil email to qualify. Savings is off of the standard 5 day rate.
Scan the QR code to register or for more event details.