Page 2 - FCW, February 2016
P. 2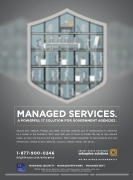 MANAGED SERVICES. A POWERFUL IT SOLUTION FOR GOVERNMENT AGENCIES.
Secure your network. Protect your data. And rest assured your IT infrastructure is cared for by a leader in the business. We'll work with your IT team to handle the day to day network tasks, so they can focus on the big picture. From reliable bandwidth to accountability and cost efficiencies, nobody knows networks, and your network needs, like we do.
1-877-900-0246
brighthouse.com/enterprise
MANAGED SECURITY | MANAGED NETWORK | MANAGED WIFI
©2016 Bright House Networks. Some restrictions apply. Serviceable areas only. Service provided at the discretion of Bright House Networks.