Page 6 - Campus Technology, May/June 2020
P. 6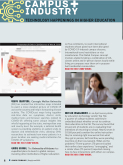 Screenshot of CMU's COVIDcast as of May 8, 2020
6
CAMPUS TECHNOLOGY | May/June 2020
VIRUS MAPPING. Carnegie Mellon University (PA) has created five interactive maps intended to paint a more detailed picture of COVID-19 across the country and help in forecasting disease activity. The COVIDcast maps bring together real-time data on symptoms, doctor visits, medical tests and browser searches related to COVID-19, offering some unique insights into what's happening at the state, metropolitan area and county level. For example, a national health system is providing statistics on patient visits to doctors and telemedicine visits, allowing CMU researchers to estimate how many patients in a given location are seeking medical attention for COVID-19 symptoms.
READ THE FULL STORY ONLINE.
GOING GLOBAL. The University of Arizona has expedited plans to launch a global campus, involving other institutions of higher education
MISSED ENGAGEMENT. In an April survey done by education technology vendor Top Hat,
a quarter of college students said they're undecided about whether or not to continue their education in the fall. The survey found that 26 percent of students are re-evaluating their intentions of returning to school. Nearly seven in 10 (68 percent) consider the online instruction they're receiving right now worse than what they got in person; half said they were spending less time on their coursework. What are the problems? Three-quarters (78 percent) called their online class experience "unengaging," and
a similar share (75 percent) reported missing face-to-face interactions with others on campus. READ THE FULL STORY ONLINE.
on five continents, to reach international students whose plans have been disrupted
by COVID-19-induced campus closures, international travel restrictions or visa moratoriums. The Global Campus concept involves students taking a combination of UA classes online and in-person classes locally while living on campuses near them or in purpose- built residential communities.
READ THE FULL STORY ONLINE.