Page 28 - Campus Technology, May/June 2020
P. 28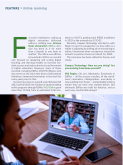 FEATURE > Online Learning
For some institutions, scaling up digital education delivered online is nothing new. Arizona State University's EdPlus divi- sion has been at it for more than a decade in one form or another. The office was official- ly launched in 2014, as a central unit focused on designing and scaling digital teaching and learning models to increase stu- dent success and reduce barriers to achievement in higher education. However, many of those involved, including EdPlus CEO Phil Regier, who also serves as the university dean of educational initiatives, immersed themselves in the work for many years prior to that.
Success has come on a grand scale. Between fall 2012 and fall 2019, the number of students taking online programs through EdPlus' ASU Online grew more than 12-fold, from an estimated 3,565 stu-
dents to 45,073, pushing total IPEDS enrollment in 2019 at the university to 119,951.
Recently, Campus Technology checked in with Regier to get his perspective on how ASU as a whole is adjusting to shifting all of its teaching to online, introduced when coronavirus closed the school's in-person classes on March 16, 2020.
The interview has been edited for brevity and clarity.
Campus Technology: How are you doing? Are you working from home yourself?
Phil Regier: Oh, yes. Absolutely. Everybody in EdPlus — all the success coaches, all the enroll- ment counselors, videographers, everybody is now working from home — and probably working harder than we have ever worked before. But obviously EdPlus was built for distance, and so we're very comfortable doing it.