Page 9 - Campus Technology, May/June 2019
P. 9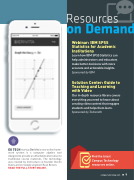 Webinar: IBM SPSS Statistics for Academic Institutions
Learn how IBM SPSS Statistics can help administrators and educators make better decisions with more accurate and actionable insights. Sponsored by IBM
Solution Center: Guide to Teaching and Learning with Video
Our in-depth resource library covers everything you need to know about creating video content that engages students and helps them learn. Sponsored by Techsmith
campustechnology.com 9
ED TECH startup Derivita's new online home- work system is a computer algebra tool designed to provide an affordable alternative to traditional course materials. The technology was created by Instructure co-founder Devlin Daley and ex-Google engineer Ryan Brown. READ THE FULL STORY ONLINE.
Find the latest
Campus Technology
resources online.