Page 9 - Campus Technology, May/June 2018
P. 9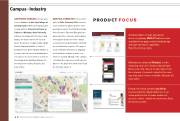 Campus Industry
GATHERING EVIDENCE. A new open source database at John Jay College of Criminal Justice (NY), developed in part- nership with the University of Texas at Dallas and Michigan State University, will track shootings at K–12 schools and analyze the factors involved in such at- tacks. The project is supported by a grant from the National Institute of Justice's Comprehensive School Safety Initiative, a research effort focused on identifying the root causes of school violence as well as developing and evaluating strategies for boosting school safety. Read the full story online.
+
MAPPING COMMUNITY. A recent ini- tiative at Tufts University (MA) reached out to students to gather ideas for cam- pus improvements. The Tufts Community Union Senate's "Brown & Blueprint" pro- gram asked for comments and feedback on the physical aspects of the campus
as well as how students build community (or not) within those spaces. The project used coUrbanize Interactive, a mapping tool that allows students to write com- ments on a virtual 3D map of the campus, correlating their experiences with specific places to the physical location itself. Read the full story online.4
PRODUCT FOCUS
9
CAMPUS TECHNOLOGY | May/June 2018
The latest edition of open educational resources gateway MERLOT features a new, simplified home page, mobile-friendly design and improved search capabilities.
Read the full story online.
RBmedia has released RBdigital, a video streaming service for libraries that will give library users the chance to view videos from the company's licensed content in the same way they watch shows on Netflix. Read the full story online.
E-textbook market entrant Lead Winds
has launched two digital textbooks on an online platform that includes audiobook versions, videos, slideshows and more. Read the full story online.