Page 40 - Campus Technology, January/February 2018
P. 40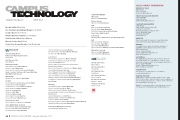 campustechnology.com Executive Editor Rhea Kelly
vol. 31 no.3
OTHER PSMG BRANDS THE Journal
Editor-in-Chief David Nagel
Defense Systems Editor-in-Chief Kevin McCaney
FCW
Editor-in-Chief Troy K. Schneider
Executive Editor Adam Mazmanian
Staff Writers Sean Carberry, Aisha Chowdry, Chase Gunter, Mark Rockwell
Federal Soup
Managing Editors Phil Piemonte, Sherkiya Wedgeworth
GCN
Editor-in-Chief Troy Schneider
Executive Editor Susan Miller
Senior Editor Paul McCloskey
Reporter/Producers Matthew Leonard, Amanda Ziadeh
Washington Technology Editor-in-Chief Nick Wakeman Senior Staff Writer Mark Hoover
Chief Executive Officer
Rajeev Kapur
Chief Operating Officer
Henry Allain
Chief Financial Officer
Craig Rucker
Chief Technology Officer
Erik A. Lindgren
Executive Vice President
Michael J. Valenti
Chairman of the Board
Jeffrey S. Klein
Vice President, Art and Brand Design Scott Shultz Creative Director Scott Rovin
Print Production Coordinator Lee Alexander
Chief Revenue Officer Dan LaBianca
Director of Sales David Tucker
Senior Sales Account Executive Jean Dellarobba
Chief Operating Officer &
Public Sector Media Group President Henry Allain
Chief Revenue Officer
Dan LaBianca
Advertising and Sales
Chief Revenue Officer Dan LaBianca
Director of Sales David Tucker
Senior Sales Account Executive Jean Dellarobba Media Consultants Ted Chase, Bill Cooper, Matt Lally, Mary Martin, Mary Keenan
Editorial Staff
Editorial Director, Education David Nagel
Art Staff
Vice President, Art and Brand Design Scott Shultz Creative Director Jeffrey Langkau
Creative Director, Custom Media Scott Rovin Senior Art Director Deirdre Hoffman
Art Director Joshua Gould
Art Director Chris Main
Art Director Michele Singh
Senior Graphic Designer Alan Tao
Senior Web Designer Martin Peace
Print Production Staff
Print Production Coordinator Lee Alexander
Online/Digital Media (Technical)
Vice President, Digital Strategy Becky Nagel Director of Site Administration Shane Lee Front-End Developer Anya Smolinski
Junior Front-End Developer Casey Rysavy Executive Producer New Media Michael Domingo Site Associate James Bowling
Lead Services
Vice President, Lead Services Michele Imgrund
Senior Director, Audience Development & Data Procurement Annette Levee
Director, Audience Development & Lead Generation Marketing Irene Fincher
Director, Custom Assets & Client Services Mallory Bundy Custom Editorial Manager Lafe Low
Project Manager, Client Services Michele Long
Project Manager, Client Services Olivia Urizar
Project Coordinator, Client Services David Yang Manager, Lead Generation Marketing Andrew Spangler Coordinators, Lead Generation Marketing Naija Bryant, Jason Pickup
Marketing
Chief Marketing Officer Carmel McDonagh
Director, Custom Events Nicole Szabo
Audience Development Manager Becky Fenton
General Manager, Federal Soup & Washington Technology Annette Levee
Custom Editorial Director John Monroe
Manager, Audience Development Tracy Kerley
Senior Coordinator Casey Stankus
Event Sponsorship Consultants Alyce Morrison, Kharry Wolinsky Marketing & Editorial Assistant Megan Burpo
FedSoup and Washington Technology General Manager Annette Levee
40
CAMPUS TECHNOLOGY | January/February 2018
SALES CONTACT INFORMATION
DIRECTOR OF SALES
David Tucker
(612) 333-2238 dtucker@1105media.com
SENIOR SALES ACCOUNT EXECUTIVE
Jean Dellarobba
(949) 265-1568 jdellarobba@1105media.com
CORPORATE HEADQUARTERS
1105 Media
9201 Oakdale Avenue, Suite 101 Chatsworth, CA 91311
Weekdays 8:30 a.m.–5:30 p.m. PST Phone: (818) 814-5200
Fax: (818) 936-0496 1105media.com
MEDIA KITS
Direct your media kit requests to Jean Dellarobba, (949) 265-1568, jdellarobba@1105media.com
REPRINTS
For single article reprints (in minimum quantities of 250-500), e-prints, plaques and posters contact: PARS International
Phone: (212) 221-9595
E-mail: 1105reprints@parsintl.com Web: 1105Reprints.com
LIST RENTALS
This publication's subscriber list, as well as other lists from 1105 Media, Inc., is available for rental. For more information, please contact our list manager, Merit Direct. Phone: (914) 368-1000
E-mail: 1105media@meritdirect.com Web: meritdirect.com/1105
SUBSCRIPTIONS
For questions on subscriptions or circulation, contact 866-410-1321
REACHING THE STAFF
Staff may be reached via e-mail, telephone, fax or mail.
A list of editors and contact information is also available on- line at campustechnology.com, or editors can be reached at editors@campustechnology.com.
E-mail: To e-mail any member of the staff, please use the following form: FirstinitialLastname@1105media.com.