Page 5 - College Planning & Management, November 2017
P. 5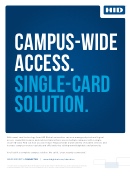 Campus-wide access. Single-card SOLUTION.
With smart card technology from HID Global, universities can now manage physical and logical access, credential issuance and cashless transactions across multiple campuses with a single, secure ID card. Find out how you can reduce fraud, provide a wide variety of student services and increase campus revenue—quickly and efficiently—by visiting www.hidglobal.com/university.
You'll call it a complete campus solution. We call it, "your security connected." YOUR SECURITY. CONNECTED | www.hidglobal.com/education
© 2016 HID Global Corporation/ASSA ABLOY AB. All rights reserved. HID, HID Global, the HID Blue Brick logo, and the Chain Design are trademarks or registered trademarks of HID Global or its licensor(s)/supplier(s) in the US and other countries and may not be used without permission.