Page 41 - College Planning & Management, November 2017
P. 41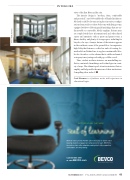 PHOTOS © HANDEL ARCHITECTS
Untitled-7 1
NOVEMBER 2017 / COLLEGE PLANNING & MANAGE4M/29E/1N6T1:148 P1M
INTERIORS
views of the East River and the city.
The interior design is "modern, clean, comfortable
and practical," says Deborah Moelis of Handel Architects. Modestly scaled bedrooms are in place in various configu- rations from studios to three bedrooms with living rooms, equipped with wood flooring and furnishings that are eas- ily movable or convertible, Moelis explains. Private areas are coupled with those aforementioned and other shared spaces and amenities such as party and game rooms, a fitness facility, and plenty of storage space, including for bicycles, she says. A major feature of the interior appears in the southeast corner of the ground floor: An expansive, high lobby that features a coffee bar and soft seating, be- neath a loft and behind two-story glass curtain walls. Moe- lis also describes a color scheme that is subtle and muted, as in gray tones, juxtaposed with pops of blue or red.
Thus, student residence interiors are marshalling aes- thetics, materials, furnishings and technologies in a vari- ety of ways. The ultimate goal: attractive interiors that ex- emplify and help enable the missions of their institutions. Compelling ideas indeed. CPM
Scott Berman is a freelance writer with experience in educational topics.